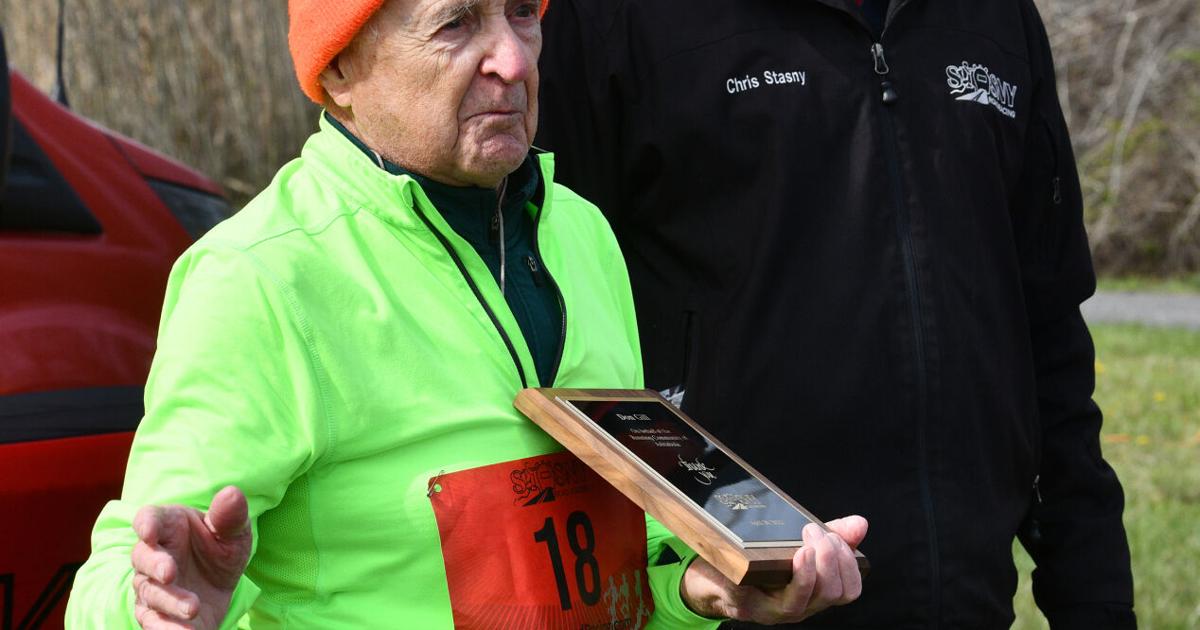 Ashtabula resident and ADR member Gill celebrates his 90th birthday | Sports
When Don Gill finishes a race, almost everyone within earshot usually stops what he's doing to cheer him on to the finish.
"I don't think words can really describe it," Gill said. "I know they are sincere and I appreciate it and it is worth it. It really touches me.
Gill, who recently turned 90, is a slim, athletic and agile man now around 5ft 4in tall with well-groomed gray hair.
People often tell Gill that they hope they can still run and be as active as him when they reach his age. He offered advice for people wanting to pursue a running career late in life.
"A lot of people come up to me and say, 'Boy, I hope I can run when I'm your age' and I'm like, 'Well you can, you don't stop, it's not easy sometimes you just gotta get your foot out the door," Gill said. "There are many days I don't feel like running."
When he laces his running shoes, he tries to run 3.3 miles – sometimes 4 or 5 – unless he's signed up for a race, which is now usually a 5K (3.1 miles).
"I do it because I can, people might think I'm crazy," Gill said.
He averages 20-25 miles a week and runs with a group of buddies who live near him in the Ashtabula Port area. Gill's running friends help keep him accountable, and he looks forward to his morning conversations with them.
Gill said he makes sure he follows a good floor stretching routine in the morning and works out with light weights before he goes for a run.
Gill's diet isn't perfect, but he tries to avoid fatty foods, admitting he "loves" bacon.
Before starting a typical run, Gill usually drinks a small glass of orange juice to raise his blood sugar. On race days, he will eat a toasted pastry and a glass of hot chocolate to give him extra energy.
After running, Gill makes sure to write down in his running diary each day the distance he ran, his weight before and after the run, and other notes about how everything went and the weather conditions.
At the end of a 5k run on April 30 at the Greenway Trail in Austinburg Township, he had a little something special to include in his run journal.
Attendees surprised Gill by singing "Happy Birthday" and enjoyed a post-race birthday cake to celebrate Gill's 90th birthday. He also received a plaque from Stasny Road Racing in recognition of his 90th birthday.
Ashtabula resident Dean McQuaide said it was great fun to participate in the surprise for Gill, who had no idea it was coming.
"They asked him if he had anything to say, and he said, 'I'm a man of few words,' and he kept talking for 15 minutes," McQuaide said.
Gill, who lives in Florida during the winter months, said maybe he should have seen the surprise coming even though it happened several weeks after his March 10 birthday.
"I shouldn't have been surprised because they did it for me on my 70s and 80s," Gill said.
Running and being active have been part of Gill's life since childhood. He established a good work ethic growing up on a farm in Pennsylvania.
Gill played football at Hickory High School and was considered the fastest player on the team.
Because his school only had football, basketball, and baseball teams, Gill did not run competitively in high school.
After graduating, Gill attended Grove City College where he played football, which led him to discover he had the stamina to be a good distance runner.
Gill eventually transferred to Slippery Rock University to pursue another college major. He ran track and cross country for college.
"I wanted to try the 100 meters, but guess what they did to me?" Gil said. "A mile and 2 miles because that was the longest distance. I was the fastest 2 mile on our team and ran the 1 mile just to get in because we had a faster guy in the mile.
After college, Gill was hired to teach at Commodore Perry High School, a brand new school that had just been built in Pennsylvania. He coached baseball in the fall and started a track and field program in the spring.
Gill moved to Ashtabula County and was a physical education and health teacher for Buckeye Schools for 25 years before retiring in 1986. At Buckeye, Gill helped start the wrestling and cross country programs -country.
After retirement, Gill taught fitness at Kent State University's Ashtabula campus for five years.
Gill remained relatively injury-free as far as running went and said he was lucky to have good knees.
He suffered a serious health crisis in September 2018, aged 86, while running a 5km race in Geneva which started next to the Geneva University Hospitals Medical Center.
Gill remembers starting the race like any other, but about half a mile into the event he suffered cardiac arrest. The next thing he remembers is waking up in a hospital room.
"It was my 13th race of the year," Gill said. "I was catching this lady pushing her little one and the next thing I know the lights were out."
Luckily an ambulance was following the race and rescuers sprung into action and got his heart beating again.
Gill recovered in a relatively short period of time and in mid-December he was cleared to return to racing.
He said an important part of continuing to race is to train and stay focused.
Gill added that a person might have to do things they don't always like, like running in the rain.
"That's where you have to get done," he said. "It's self-discipline and that's key when it comes to racing."
He ran countless 5Ks, but considered himself better at races of 10K or more when he was younger.
Gill has run 14 marathons in his career, including the Boston Marathon and the Columbus Marathon six times each. His fastest marathon time was 3 hours and 18 minutes at the Columbus Marathon.
His influence in the athletic and running community now spans generations and has not gone unnoticed.
The Ashtabula Distance Runners Club made Gill its first life member of the club in 2019 and presented him with a plaque stating what he means to the club and the local running community.
McQuaide, 74, who became the ADR club's second lifetime member in 2021, had Gill as a physical education teacher at Braden Middle School. It was he who introduced him to running as a sport.
"That's where I started racing," McQuaide said. "One of his classes was running and he introduced us to wrestling and he set up an after school gym class that happened at halftime during basketball games,"
McQuaide now runs with Gill around three times a week and said his running partner is a real asset who is willing to lend his expertise to anyone.
"He has so many fingers in so many areas. He was a coach, he's in the running club and he always sees people and he talks to them while he's there. [at running events]said McQuaide. "He encourages all kinds of people to keep going and improve."