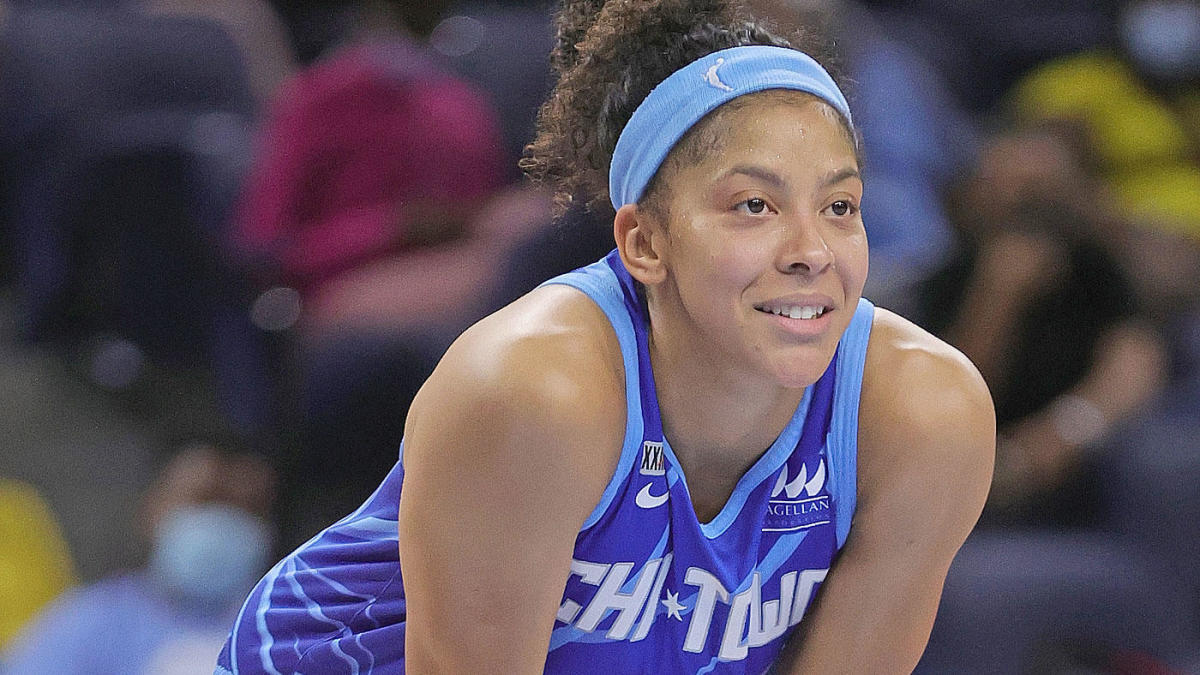 Candace Parker's Q&A: Two-time WNBA champion on home title, her run in sneakers, Pat Summitt's influence
If this were a film script, the life of Candace Parker last year could easily be an Oscar nominated production. After an illustrious 13-year career for the Los Angeles Sparks, one championship, five All-Star appearances and countless other accolades, Parker made a huge career change when she decided to sign with the Chicago Sky in as a free agent and to return to the state. that she calls home. This homecoming will go down as one of the most memorable stories in WNBA history after Parker helped Sky, as the No.6 seed in the playoffs, fight elimination over and over again. times en route to a championship.
Now in the offseason, Parker has taken the time to make a virtual visit to the basketball players of the boys and girls teams at Whitney Young Magnet High School in Chicago on behalf of Gatorade. As the two-time National Gatorade Player of the Year, Parker spoke to Chicago's Next Generation of Hoops to discuss advancements in sports technology when it comes to the Gatorade Gx Sweat Patch.
In an exclusive interview with CBS Sports, Parker discusses the incredible home title, his message to the next wave of athletes, his run in sneakers, and the countless inspiration the late Pat Summitt has given him. provided along the way.
Please check the registration box to confirm that you wish to subscribe.
Thank you for your registration!

Keep an eye on your inbox.

Sorry!

An error occurred while processing your subscription.

CBS Sports: Tell me what you are doing today with Gatorade.
Candace Parker: It was very cool. We surprised Whitney Young [High School], their boys and girls teams on Zoom. I spoke with them about how they should take advantage of access to what the pros do, and that's the Gatorade Gx Sweat Patch. We've talked a lot about this, about how you just download an app and get all the info from the Sweat Patch. We talked about everything you can do differently to improve your sport and I think it goes across the board. It's not just about being pro, it's about trying to be good locally, it's about trying to be better if you run a marathon. It doesn't matter what it is. It was cool talking to them about it because I know I'm not a spring chicken anymore but I didn't have access to this stuff when I was younger so I just encourage them to enjoy it.
CBS Sports: As the two-time Gatorade National Player of the Year, how do you think this technology would have helped you back then?
CP: First of all, I don't know because my dad probably would have made me run even more [laughs]. I'm just kidding. It would have been amazing, honestly. I think it would have been cool to just see the data and save it with real stuff, like you can really test it out. When I was a kid I tried to get access to everything the pros did. I had all the bracelets, all the bracelets, I had everything. So, I definitely would have been on it, 100%.
CBS Sports: I want to talk about some hoops with you. You have just come out of such an incredible season. You come home to Chicago and you earn the whole first year. Can you express in words how surreal all of this is?
CP: It's surreal to be honest with you. To go home and be able to win a championship and especially with this group. This group was special. I can't even put it into words. Maybe I can when it's all said and done, but I was able to win a championship in front of the people who first saw me bounce a ball, see my high school games for the first time or whatever. it would be. My high school coach was there. I had teammates there in high school. So many teachers and family friends. It was unbelievable. And I dreamed of the moment to jump on the scorers table. I think every ball player dreams of that moment with the trophy and jumping on the scorers table. I was able to do it and I really enjoyed it.
CBS Sports: You have a long-standing relationship with Adidas – you have your own collection and your own exclusive shoes. If you think back to your high school years when this relationship was first established, could you ever think that you would be here?
CP: It was a dream, honestly. For some it was crazy, but for my mom and dad it was like "yes! My nickname growing up was "Can-Do", my brothers would say, "can do anything and get away with it." [Laughs] But for my parents it was "CanDo", so every time I doubted myself they would say "Can-Do". So it's a story that's on the shoe and it's really amazing. I'm really sitting here as a Gatorade athlete. Everyone has seen the Michael Jordan-Mia Hamm commercials. These advertisements are etched in my head. It's crazy to think about the things that inspired you and to be able to be in this situation and in this position now, it is something that I dreamed of but still don't take for granted.
CBS Sports: Many details in your kicks over the years and with the Exhibit A shoes pay homage to the late Pat Summitt. How important was it to include these details when designing your shoes?
CP: Pat is in every shoe, whether it's my shoe or a PE or a shoe they give me. I have orange [for the Tennessee Volunteers] in each shoe, so I was able to tell this story. His influence has been enormous from 18 to 22 until now at 35. I am always inspired by the things she said to me and I think I understand them even better now. When I take care of my daughter, I feel like [Pat] is there. I will hear his words and sometimes I use them. So it was very important for our team to put it on the shoe, because it is on all the shoes that I have and it is an integral part of my story.
CBS Sports: What needs to happen to get more women to match that level of representation when it comes to a big brand like Adidas and a company like this invests resources in a line and a shoe ?
CP: I think it's visibility. I think a big part of this is athlete empowerment. It is no longer as consumers that we agree to buy something we know nothing about. We want to know where it comes from. We want to know the story behind it. I think that's why social media is great, because it allows athletes to control their narrative and control their story. So when you're able to do that, that's when you have genuine partnerships and for me that's what it takes to be genuine and genuine. It was important to me, even as a Gatorade or Adidas athlete, not just talking to girls. I want to talk to people, I want to talk with young boys and girls. The first time I went to a gym and saw a little boy in my shoes it was so cool. Today I got to talk to Whitney Young's boys and girls team, so I think the more you do, the more I think you might see women in leadership roles, women in the sport do horrible things and the more you i will respect him.
CBS Sports: Have you ever clicked on your Wikipedia page and viewed the "achievements" section? It's long.
CP: [Laughs] No, I didn't. I know my daughter really enjoys ripping YouTube clips. She's hilarious. Sometimes his favorite is to provoke altercations in games. [laughs]. So that's what she prefers to send me. She told me that once at lunch, she and her friends pulled out their phones over lunch and she said, "Yeah, my friends and I are watching your fight against DC", and I was like: "Can you stop? Like you're in school and watching your mom fight. So I didn't do Wikipedia but I'm sure it will come with my daughter once she figures it out. .