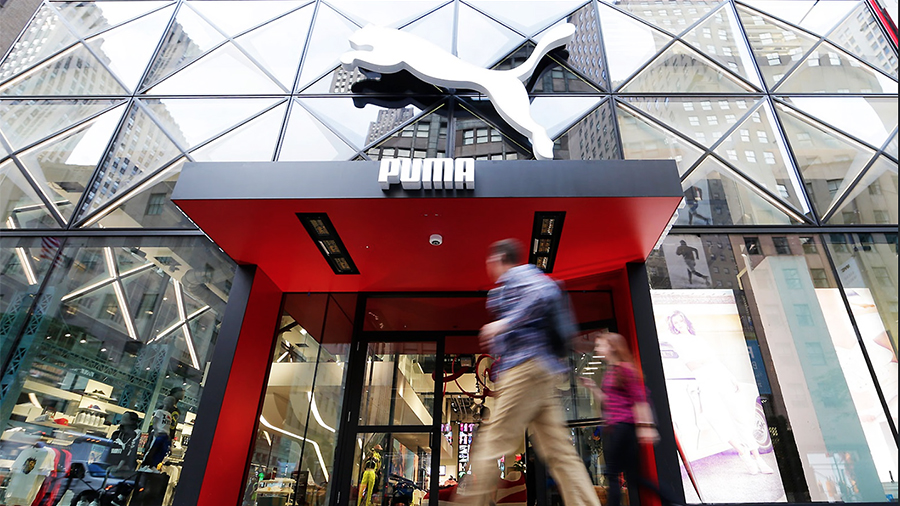 Inside the call: Puma delivers stunning first quarter in North America
Puma delivered currency-neutral growth of 44% in the Americas region in the first quarter, boosted by energy around Lamelo Ball's basketball shoe, the brand's return to performance running and the recovery golf.
"I'm very, very proud of the North American numbers," Puma CEO Bjørn Gulden said on a media call. "We have made inroads in this market, especially thanks to the investment we have made in basketball."
Company-wide, Gulden said the first quarter marked a record single-quarter revenue for the company and was the best first quarter for EBIT (earnings before interest and taxes). The performance builds on a record year in 2021 with growth of 31.7% in 2021 and the return to healthy growth in recent years.
Puma achieved a CAGR (compound annual growth rate) of 12.3% from fiscal 2015 to fiscal 2021. Gulden said, "I am pleased to report that this momentum continues.
Overall, sales for the first quarter ended March 31 increased 19.7% on a currency-neutral basis to €1.91 billion (+23.5% reported).
In the Americas, the 44.1% gain reflects continued strong demand for the Puma brand, with currency neutral gains of 38.6% in North America and 64.5% in Latin America. In euros, sales in the Americas increased by 51.8% to reach 815.9 million euros.
Sales in the EMEA region increased by 25.5% on a currency neutral basis, reflecting strong growth in all key markets in Europe. In euros, sales increased by 23.8% to reach 708.8 million euros.
Asia/Pacific (APAC) sales decreased 17.0% on a currency neutral basis due to the current market environment in Greater China resulting from COVID-19 related restrictions and geopolitical tensions.
Greater China sales fell 37%. Gulden attributed the weakness largely to the Better Cotton Initiative's (BCI) decision early last year to suspend operations in Xinjiang province over concerns about labor abuses in the region, leading to a backlash against Western brands, which started in the latter part. in the first quarter of 2021. In euros, APAC sales fell by 12.4% to 387.4 million euros.
All product divisions recorded double-digit growth. On a currency-neutral basis, footwear rose 18.2% to €941.3 million, apparel grew 16.0% to €638.7 million and accessories jumped 32. 2% to 332.2 million euros. Growth was driven by demand for its Performance categories – running, training, team sports, golf and basketball, as well as the sportstyle category. Accessories were boosted by the golf category, which includes the Cobra brand.
By channel, Puma's wholesale business grew 23.3% on a currency-neutral basis to €1.53 billion, and direct-to-consumer (DTC) sales grew 7.1% on a a neutral base in currencies to reach 384.0 million euros.
Gulden said DTC's smaller gains reflect its "wholesale-first" strategy that prioritizes inventory to help its wholesale partners focus on adding space to the shelves.
Sales at owned-and-operated retail stores rose 21.3% on a currency-neutral basis, although this largely reflects easy comparisons when stores were closed due to the pandemic a year ago. . E-commerce fell 13.2% on a currency-neutral basis. Excluding China, e-commerce sales were essentially flat. The drop also reflects tough comparisons with a 75% gain in e-commerce in the first quarter of 2021.
Gross margins for the quarter eroded by 130 basis points to 47.2%, mainly due to unfavorable geographic and channel mix and higher freight rates, while currencies had a slightly positive effect.
Operating expenses (OPEX) increased by 18.6% to 712.8 million euros due to higher marketing expenses, the increase in the number of retail stores in operation and the increase distribution and warehousing costs related to sales. As a percentage of sales, OPEX was reduced to 37.3% from 38.8% a year ago, as the improvement came despite continued operational inefficiencies due to COVID-19, particularly in the supply chain. supply.
EBIT (earnings before interest and tax) increased by 27.0% to EUR 196.0 million, with the EBIT margin improving by 30 basis points. Net profit increased by 11.1% to EUR 109.2 million, or EUR 0.81 per share.
On the call, Gulden said Puma has benefited from favorable industry trends, including growth in sports participation spurred by the pandemic. The continuation of the global trend of sneaker and casualization also supported the growth of the brand.
Internally, Puma is receiving "very positive feedback from retailers" for its product line and continues to have a "very, very strong order book".
Taking stock of progress made across key category platforms, Gulden said Puma had experienced a "return to football", or American football, with the signing of star players such as Neymar, Kingsley Coman and Christian Pulisic. , brand investment in teams and successful product launches. . Gulden said: "In many markets we are now approaching 20% ​​market share, and we believe Puma is very, very well positioned for the future in this major sport."
In running, Puma are known for their athletic spikes, but have recently returned to the broader running category with the success of their Nitro range. Puma has received good reviews for its running shoes and its running athletes are finding success in marathons and other races. Gulden said, "We have once again become a successful running brand after many years of not participating in this activity. And I can tell you that there is internal and external effervescence in this booming sector.
Training is also a growing category for Puma, helped by the global popularity of yoga and Pilates.
Puma returned to the basketball category three and a half years ago and saw benefits when they signed NBA Rookie of the Year LaMelo Ball in the 2020/21 season and played his first game All-Star this year. . Says Gulden, "He's been a big hit with us, and his signature shoes have sold out every time we release a new release."
Gulden also said the return to basketball is supporting his classics business with shoes throwing back the 70s, 80s and 90s. In September, Puma will release a signature shoe for Breanna Stewart, the first basketball player to release a signature shoe in twelve years.
On the lifestyle side, Puma's Select range continues to benefit from collaborations with fashion brands Butter, Liberty of London, Maison Kitsuné and Rhuigi. The company is also increasing its investments in classics such as Slipstream, Mayze, CA Pro, T7 and Suede. Gulden thinks only Adidas comes close to archival offerings from Puma. The men's sportstyle will look to build on its recent success with the RS series.
Puma's Motorsport Formula One class is in full swing and is enjoying next week's inaugural Miami Grand Prix. Finally, children have received more attention lately and golf has seen a strong turnaround throughout the pandemic, both with Puma footwear and apparel lines and Cobra clubs.
"Golf was a category that people thought was almost dead, but it came back during COVID," Gulden said. He said the growth came despite the impact on the category of COVID-related factory closures last year in Vietnam.
Looking ahead, the company maintained its guidance for 2022. Currency-adjusted sales growth is expected to be at least 10%, with upside financial potential in 2022. Operating profit (EBIT) is expected to to be between 600 million euros and 700 million, compared to 557 million euros) and the net result should improve accordingly.
Gulden said: "While we remain focused on our growth momentum in serving our retail partners and consumers in the best way possible, we expect inflationary pressures from higher freight rates and material prices. higher raw materials, as well as operational inefficiencies due to COVID-19 and the Ukraine crisis to dilute our profitability in 2022."
Photos courtesy of Puma