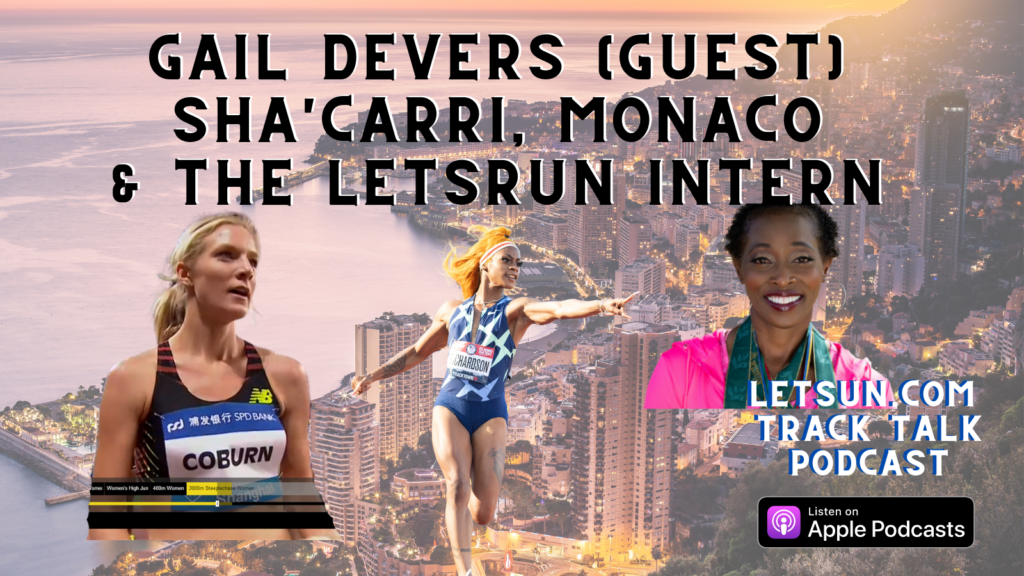 Olympic legend Gail Devers (guest), Sha'Carri & Bekele OUT, preview Monaco, Olympic favorite Emma Coburn? + Meet the LetsRun.com intern
[ad_1]
by LetsRun.com
July 7, 2021
This week's LetsRun.com Track Talk podcast is here (listen here or in the player below)
Monaco's mini Olympic preview is here on Friday, but a ton of potential Olympic stars won't be at the Olympics (Sha'Carri Richardson, Kenenisa Bekele, Christine Mboma, Brianna McNeal). We discuss everything, preview Monaco and ask if Emma Coburn could be the Olympic favorite after Friday and if Sifan Hassan will attempt the Olympic triple. We are joined by the legendary Olympic hero Gail Devers at 86:47 for Gail to talk about her amazing career, her battle with Graves' disease, doping in sports and, yes, a lot of running (she gives her hot views on Athing Mu, Cole Hocker and Paul Chelimo).
The article continues under the player
July is Graves' Disease Awareness Month: For more information on Graves, thyroid eye disease, go here: http://focusonted.com/
You can beat Rojo in the Red Cross Go For the Red Virtual Race on August 7, 2021 GoFortheRed.org for more details. We are joined by James Francavilla, American Red Cross Chesapeake Area Development Director at 84:58 to discuss some of the great things the Red Cross is doing.
Long podcast this week, so we have show ratings for everyone. Usually LetsRun.com Supporters Club Members only get the show ratings. Join the SC today for insider content, one additional podcast per week, daily Olympics podcasts, huge savings on running shoes and more. https://www.letsrun.com/subscribe This is the best running club on the internet. Olympians, US record holders and more are members.
7:27 Sha'Carri Richardson NOT in the US Olympic team
18:24 Kenenisa Bekele NOT on the Ethiopian team and Robert's $ theory on why the Ethiopians do not overtake
10:12 p.m. Intersex talk: Christine Mboma (48.54 for 400) NOT eligible for the Olympics
29:05 Brianna McNeal NOT in the Olympic team / excuse for abortion
41:25 Track talk: Are there any Olympic favorites? Half of them just lost
51:36 Monaco Preview: It's a mini-Olympics
63:27 Could Sifan Hassan succeed in the Olympic triple?
67:27 Monaco Steeple Preview: Could Emma Coburn be the Olympic favorite?
73:07 Meet LetsRun Intern Karl Winter / Nijel Amos Update, NCAA Name Image and Likeness Rules
86:47 Guest: Gail Devers – Double Olympic 100m champion and super athletic fan on her incredible career, overcoming Graves disease, the current state of athletics and yes running! http://focusonted.com/
101: 41 Gail: Symptoms of Graves' Disease
104: 58 Gail Devers started as an 800m runner
115: 04 Gail: Doping in athletics
120: 12 Gail on Athing Mu, Ajee Wilson, Cole Hocker, Paul Chelimo and what she's also looking forward to at the Olympics + running a relay at the New York Marathon
124:58 Guest: James Francavilla – Director of Development at the American Red Cross in the Chesapeake region GoFortheRed.org
We want your feedback. Email [email protected] or call 1-844-LETSRUN and press option 7 to leave a private voicemail message.
[ad_2]