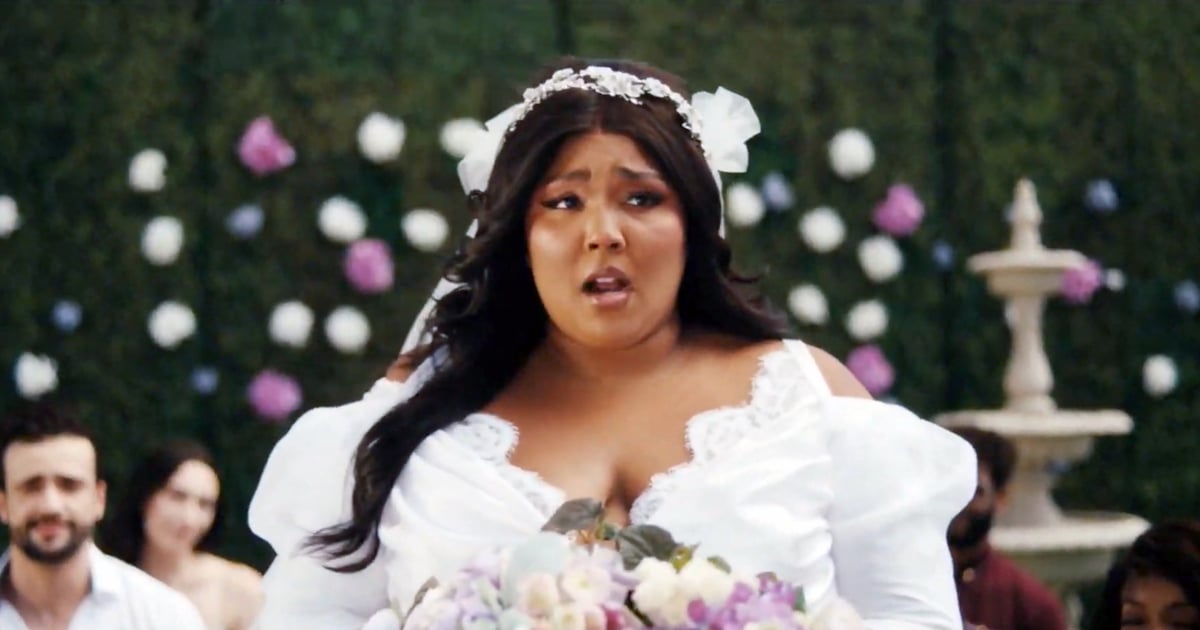 The wedding dress of Lizzo in the clip "2 Be Loved"
Lizzo might have teased her "2 Be Loved (Am I Ready)" music video in a fairly simple wedding dress with lace sleeves and a cutout back, but the "Special" singer revealed a much more expressive wardrobe on the featurette debut Monday, August 15. Stylized by Brett Alan Nelson and co-directed by Lizzo and Christian Breslauer, the video features the global pop star at her wedding ceremony in a completely different gown with half-mesh puff sleeves, cold shoulders and a lace-trimmed neckline. But the wrap-effect skirt becomes increasingly dramatic, giving way to a thigh-high slit.
Lizzo plays up the detail with white stockings pulled over the knee and notched-soled combat boots with three ornate buckles, a nod to her personal style, which almost always includes a touch of the toe. While her bridal ensemble is finished with a tulle veil and ornate floral headband, her chunky-framed cat-eye sunglasses bring a playful, retro vibe. They complement her bridesmaids' '60s-inspired powder blue shifts, accessorized with diamond chokers and voluminous hairstyles.
As we see Lizzo picking up a pair of fur-trimmed mules from her hotel room, she ends up ditching her wedding dress altogether, swapping it for a set of deconstructed silver chain mail dripping with beads, rhinestones and of chains. These co-ords are complete with matching boots and fingerless gloves, creating a disco-era surprise at the reception that feels like a joyful celebration of self-love above all else. Fittingly, Lizzo's mesh briefs take center stage in the finale, which is perhaps a subtle nod to all her success launching her Yitty shapewear brand.
Ahead, watch the full music video and enjoy a breakdown of key fashion moments.