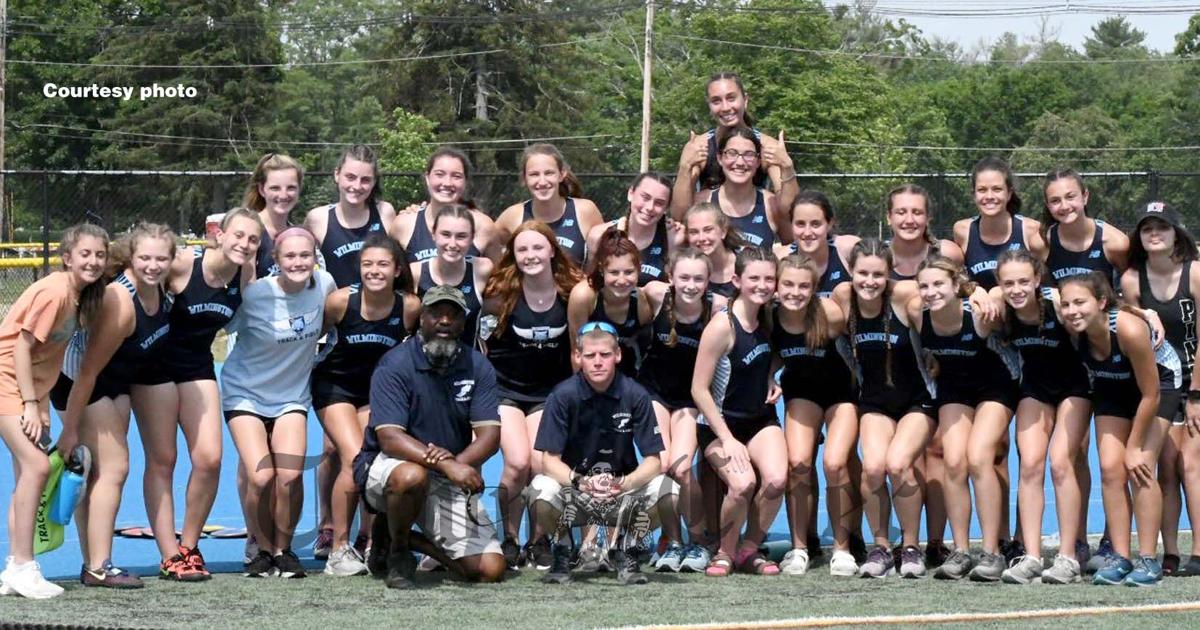 Town Crier Coach of the Year – Brian Schell: Award third in five years | Sports
WILMINGTON – In sport, any time an athlete or coach tries to do something that no one else has done, it's always a big deal. Or at least it's in the eyes of the town crier.
In 2016, Brian Schell was named the newspaper's Coach of the Year after guiding the women's indoor track team to their first unbeaten season and their first league title in program history.
In 2018, Schell won the award for the second time in three years, having coached the boys' cross country team to a third place in the Division 2 All-State Meet, the best performance of any Wildcat team since 1974. The year before, in 2017, he coached the team until their very first appearance in All States.
Now, three years later, Schell is the Town Crier's Coach of the Year for the third time in five calendar years – not counting last year as there was no award due to COVID. In the 27 years, Steve Scanlon has won it six times and now Schell is second with three, while three others have won it twice each.
All Schell has done this calendar year was lead the women's outdoor track team to a 5-0 record, including the program's first-ever league championship, and then about five months later he guided the women's cross country team to an overall record of 4-2, which included being in a three-way tie for first place in the Middlesex League Freedom Division. It was also the first league title of any kind in the history of the program. Several weeks later, thanks to a fourth place finish in the sectional competition, the Wildcats qualified for all-state competition for the first time in program history, finishing ninth in the state for Division 2.
In her three seasons coaching the fall-2 women's and track and field teams, as well as cross-country, the teams combined for a 14-2 record and won two league titles.
In five years, Schell has coached four different programs in historic seasons.
Certainly, it is big in the eyes of anyone.
"Brian has done a great job with the cross country program and with the women's track and field program," said athletic director Mia Muzio. "He's knowledgeable and skilled, loves what he does and is really dedicated to the sport. You can tell the kids love to run for him and he makes it a fun experience for all of them. I am excited to see the future of our cross country and women's track programs.
Schell's passion for cross country and track is unmatched. He really enjoys coaching and it doesn't matter if the team is 0-5, 1-4 with losses all coming from the last event of the day, or 5-0 with a league title. He has been Mr. Consistent since he started as an assistant coach in 2010, before eventually becoming a three-season (four-team) coach.
"I don't watch wins all the time, especially in this sport because it's primarily individual and I tell them that as an individual you have to motivate yourself and get the job done especially during the off-season . " said Schell. "That's when you can start to aspire and be a support system for your teammates and that's how you start to build a team. Obviously over the years a lot of people have stepped up and worked through the off-season. They know that I push a lot with girls and boys, especially in cross country.
"You will have your losing seasons, but at the same time the kids will have their personal bests, they will have their individual moments and that's what it's about most. At the same time, over the past two seasons, we've really made a difference in terms of the team, so it clearly shows that everyone's work is paying off. The culture of the program that these kids have built and all of the support for each other is just phenomenal. "
During the cold winter months, the Wildcats indoor track team competed outdoors as part of the fall-2 season. Wilmington had only 21 members on the squad and came away with a very impressive 4-1 record.
Less than two weeks later, with warmer temperatures, the same 21 kids, along with seven newcomers, were back on the Frank Kelley trail to make history.
"I remember saying at the start of the season that we had the versatility (to win a league championship). We had the depth, we had the versatility, we had the talent and we had the team to do it. I knew I could put a lot of kids in a lot of different events. I believed they could all step up and they did. Whatever we needed the girls did, "he said.
Along with the 5-0 record and the league title, Wilmington had his best ever result in the Middlesex League Championship meeting, taking fourth place, and followed that up in the next meeting with a fourth place in the section meeting.
After a brief summer break, Schell was back to coach the women's and men's cross country teams. With the addition of Shea Cushing, who put down his field hockey stick for his running shoes, the 'Cats have once again done magic. The team finished 4-2 overall, the first loss was against great opponent Arlington, and the last was on a terrible run Melrose. The loss that day meant Wilmington ended the season in a three-way tie for first place with Melrose and Wakefield.
Several days later in the league championship meeting, the 'Cats again finished with a better fourth place on the schedule, which was better than both of these teams.
Schell was asked about winning two league titles in five months.
"I know it meant a lot to all of us when we first won this indoor season, so certainly those two titles mean a lot to all of us now. This is good because it shows you that the kids trust your coaching, your training, you and whatever you do to help them improve, and they admire you, which is great.
"I know I can't do it on my own, obviously. (Outside Track Assistant) Coach (Don) Wilson does a terrific job with the pitchers – we had the discus throwers who won the state relays, we had the shot puters who qualified for the state competition. I remember Amie Russell throwing in her 20s when she started, then throwing 33ft by the time she left. He did a lot for the pitchers and I certainly can't thank him enough.
"I can't thank Coach (Joe) Patrone enough for his work with the high jumpers. When we first won the indoor league and no one stepped over the opening height and thrown the shotgun we were swept away every meet of these two events and now with his work you have several. kids who qualify for the states, all be in the league. stars, being in the top three in the league, so he's also just done a phenomenal job. Between the two of them, I can't thank them enough for helping me, for teaching me events that I'm not so familiar with.
Over the years, Schell has admitted that he's less stressed and a bit more comfortable during training and meetings, which is sometimes difficult as he's always on the move.
"I'm calmer now because of the athletes I have, especially this senior class. I have eleven and they all do a lot for me. When they were in first year, I knew right away that it was going to be a strong crew. I knew I could trust them all, and every day the captains take care of what needs to be done. I know that all children work and it keeps me from stressing (so much), "he said.
Schell jokes that he's 35, single, and still lives with his parents, but regardless of his age and personal life, he continues to prove that he can not only train, but that he can also train with the best of them.
"I wouldn't change that for the world. I tell these children that they are my family. They trust me, they support me, they are there for me just like I'm there for them and because I love this sport so much whether it's cross country or track, I wouldn't give it up for the world. . It goes with the attitude of these girls and it's just phenomenal that I have such a great group of athletes to work with, especially in the last few years.