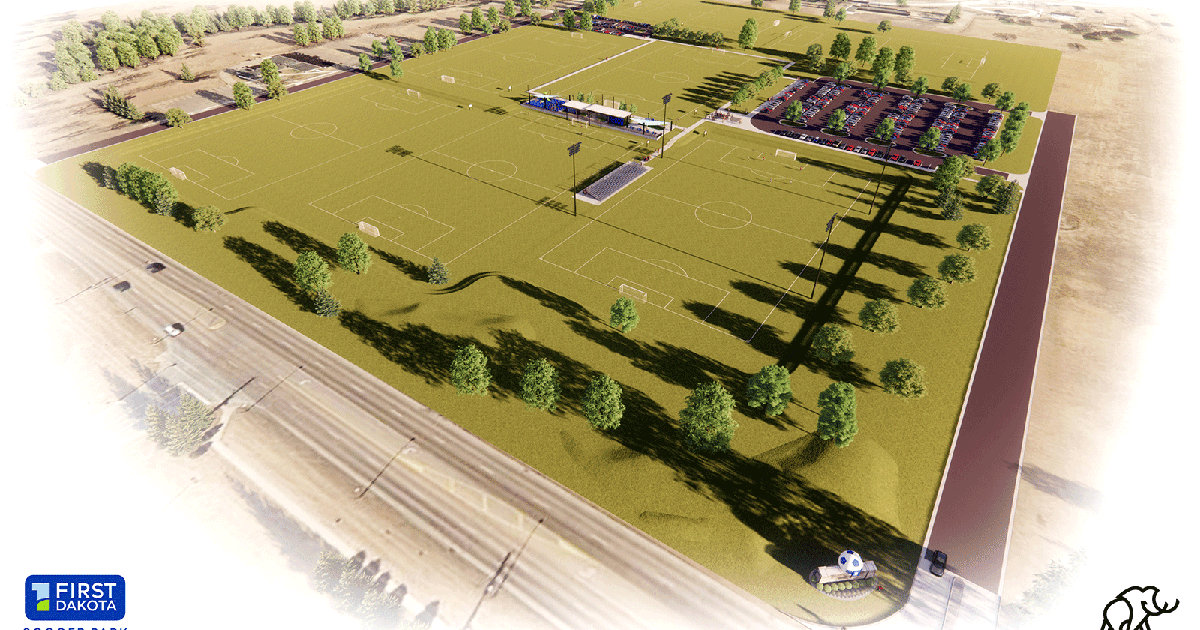 YYSA Offers Donor Recognition Opportunities in New Park | Community
The Yankton Youth Soccer Association (YYSA) is building its forever home and providing its sponsors with naming opportunities.
Recently, YYSA launched an ambitious plan to develop land north of Yankton for a soccer park and signed a $2.5 million contract with Mammoth Sports Construction to build what will be called First Dakota Soccer Park.
The First Dakota National Bank (FDNB) donated $1 million for the construction of the park. Additionally, Larry Ness, chairman of the board and CEO of FDNB, and his wife Diane contributed $250,000 for Ness Championship Field, according to a press release from YYSA.
"The Ness family and First Dakota chose to sponsor the park because giving back is in our DNA," FDNB executive vice president Aaron Ness said in an email to Press & Dakotan. "The opportunity to positively impact young people in the Yankton area – now and hopefully for generations to come – made our sponsorship an easy decision."
Finding a home for the football club took years, YYSA fundraising co-chair Wes Chambers said in an email to Press & Dakotan.
"The current complex sits on land that has been designated for further development at any time," he said. "Through a joint effort between the 4030 Foundation, the City of Yankton, and the Football Association, we orchestrated a land swap that secured us a 99-year lease on the current complex.
"We now have a permanent (place) for our children to play football."
The project, which is expected to be completed in the fall, includes the construction of seven natural surface courts, a comfort station, a new parking lot and a convenient entrance and exit.
A total of $1.7 million has been raised so far and there are more opportunities for sponsor recognition, YYSA fundraising co-chair Sondra Jensen told Press & Dakotan.
"All (fields) will have a naming opportunity," she said. "The toilet block is available for naming and it will be on the front of the building itself. Along with that they will have signs on the front of the soccer park. All the sponsors on the pitch will also be featured there.
The comfort station will include the YYSA office headquarters, a locker room for referees or athletic training, bathrooms and facilities for changing and use by park visitors, and a concessions area, Jensen said. .
YYSA organizers are excited about the project, which they believe will allow the club to continue to have a positive impact on Yankton, as it has since its founding 35 years ago, she noted.
"Soccer tourism is pretty big in Yankton," Jensen said. "Every year the soccer association operates, we add a million dollars in financial impact to our community. On April 23, we have 3,000 people coming to town; we will have 1,000 footballers here; and we do it several times a year.
YYSA continues to have a great economic impact in the Yankton community, she added.
"In our 35-year history, 14,000 children have gone through the program and 700 children have enrolled in this month alone," Jensen said. "We are one of the oldest football programs in the state. We're one of the biggest in the state, and we're one of the biggest youth sports (in Yankton). »
YYSA features 26 teams of 6-year-olds in high school – and there have been high school championship teams for the past two years – so it's an important goal of YYSA to be good stewards for young people. she coaches, she said.
"When we look at the number of people we reach and the number of children we reach, we have to be more than football," Jensen said. "We try to make good humans. We also focus on teamwork, cooperation, collaboration, goal setting, learning to compete, learning to win like a champion, and learning to lose like a champion.
Soccer is one of the most diverse sports in Yankton, and YYSA has young people from all over playing, she said.
"When I talk to some of our fabricators and other city employees, they say football is one of the most popular sports in the world and the families that come (to Yankton) know how to play," said Jensen said. "It allows them to go out and integrate into our communities and make friends."
Additionally, soccer is a low-barrier entry sport, she said.
"You know, if you have a pair of tennis shoes, your coach has the soccer ball," Jensen said. "If you can't afford the tuition, we have a scholarship program. We are a socio-economically diverse club.
Yet until now the club has been without a real home, she said.
"We are beyond fortunate that the city has given us this 99-year lease and First Dakota is leading this project as the park's naming sponsor," Jensen said. "We've waited a long time and I think this will be a great opportunity to provide a permanent enclave for our community."